RICK CLARK

Rick Clark is a poet. Actually he's a RENOWNED poet!

Rick Clark presently pursues writing full-time after having taught college English for 18 years and, in an earlier manifestation, English as a Second Language for six years, mostly living and working in Japan.

On the side, he provides writing, editing, and coaching services and keeps a Nature oriented blog at wrenzai.wordpress.com.

Clark and his wife, Seattle yoga instructor Fran Gallo, hold a variety of retreats on the Washington coast.

Recently, Rick has set out to found two small presses. A book of bird and bug haiku, with illustrations by Northwest sumi artist Fumiko Kimura, is forthcoming from Red Moon Press.

CLICK HERE to view and purchase his book:
JOURNEY TO THE RIVER, India Travels
a Travelogue by train around India.

---

JEANNE BENDER

Bender loves to travel. She writes about her journeys in the Lindie Lou Adventure Book Series. The books teach life lessons, through the eyes of a puppy named Lindie Lou, who travels around the world.

www.LindieLou.com

Bender's beginning chapter books were first introduces to elementary school students. They conform to many educational literary standards.

Bender studied beginning chapter book writing, with a creative writing professor in Seattle, WA. She continued her studies in the UK at Oxford University.

Bender lives in Seattle in the summer and San Diego in the winter. One of her cocker spaniel's name is La Petite Lindie Lou.

---

​ROBERT BOXBE

RGERRobert Boxberger was thirty years a newspaper reporter and avid photographer. He also wrote product publicity for the former American Plywood Association in Tacoma, WA. While with the association, he oversaw construction of a native health center on Little Diomede Island in the Bering Strait, and produced a short, silent documentary of that event. During his newspaper days, he also wrote speculative television scripts with Bill Kelley (Academy Award winner for "Witness).

Boxberger wrote an exciting speculative fiction novel called "Far Bridge."He resides and writes in Tacoma, Washington and Morro Bay, California.

CLICK HERE to view and purchase his book:
FAR BRIDGE
a speculative fiction.

​​

---



​DANNY PARK

​Danny is an avid traveler who loves fitness and athletics. As a certified personal trainer with further certifications in corrective exercise, weight loss, and nutrition,

Park strives to use his extensive knowledge of fitness to empower and help the lives of the people he has the pleasure of working with.

Park also possesses a third-degree black belt in Tae Kwon Do and is a former professional paintball player, one of nine members to have played on a Canadian professional paintball team that was the number-one ranked team in the United States and Europe in 2014.

Park has a BA in Business Economics at the University of California, Irvine. He lives in Irvine, California.

On his off time Park loves to read self-improvement books, but can also be found on the dance floor or singing karaoke to Michael Jackson's "Rock with You."

---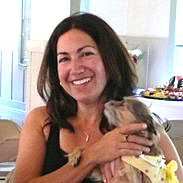 FRAN GALLO
Fran Gallo has been a Hatha Yoga instructor since 1996.

She is the author of FranGallo's Blog (frangallo.wordpress.com), where she posts her photography and writes on various topics she is passionate about, ranging from yoga, travel, hiking, nature, gardening, cooking, her yoga retreats, musings on life, and her Sicilian family and roots.

She facilitates yoga workshops and leads retreats abroad and at her part-time home and sanctuary in Ocean Shores, on the Washington coast.

She currently resides in Seattle with her husband—poet, editor, and writing coach Rick Clark.
---