PROUDLY PRESENTS OUR BOOKS...
Lindie Lou
Adventure BOOK Series
CHILDREN'S BEGINNING Chapter BOOKS for Ages 5 AND UP

​By author Jeanne Bender
​Includes color illustrations, large easy-to-read fonts, and fun travel adventures.
Book 1: Flying High; Lindie Lou overcomes her fears when she flies on an airplane for the very first time!
Book 2: Up in Space; Lindie Lou experiences the excitement of Seattle and a thrilling adventure at the Space Needle!
Book 3: Harvest Time, Lindie Lou learns about farm life, organic farming and enjoys a harvest celebration!


When a puppy, named Lindie Lou is born in St. Louis, she has no idea of the adventures that await her! Lindie Lou plays with her brothers and sisters, Topaz, Jasper, Ruby, and Diamond, in the Puppy Playground, until one day they are adopted by different families. Lindie Lou fears she will never see them again. Lindie Lou is also adopted by a family, who lives far away. She flies in an airplane to the Emerald City (Seattle) to meet them.

Each of the Lindie Lou Adventure Series twelve books, take place in a different location and in a different month of the year. Three clues, at the end of each book, give the reader hints to where Lindie Lou will go on her next adventure. Follow Lindie Lou from St. Louis, to Seattle, to Des Moines, to New York, to Greenland, and even the Moon!

The Lindie Lou Adventure Series books introduce young readers to adventure in an easy-to-read beginning chapter book environment. From the Space Needle in Seattle, to an organic farm in Iowa, to a Thanksgiving Day parade in New York City, to a Cherry Blossom Festival in Japan, the adventures continue! And in the middle of all the adventures, Lindie Lou meets up with her brothers and sisters along the way.

Readers will remember Lindie Lou's bravery when faced with fears of her own. They will see examples of her developing self-esteem, courage, determination and compassion. But most of all, they will learn life lessons with Lindie Lou, in each book.

Join the fun with Lindie Lou when her family and friends play together, learn lessons together, even save each others lives!
​Journey to the River, by author Rick Clark, is based on the journal Clark kept as he and his wife, yoga instructor Fran Gallo, traveled by train around India in 2001. The vivid imagery and poetic language make this book a compelling read for new and inveterate travel readers, Indophiles, and poetry appreciators alike. The beautifully wrought sentences and paragraphs take readers to such sprawling metropoles as Kolkata (Calcutta), Chennai (Madras), and Mumbai (Bombay); to such archaeological destinations as Bhubaneswar, Konark, Mahabalipuram, and Pushkar; and to such spiritual outposts as Pondicherry, Kanyakumari, Pushkar, Dharamsala, Rishikesh, and Varanasi (Banaras), especially the burning-ghats (cremation platforms) on the Ganges River, to which the book's title refers. The inveterate travelers meet and interact with many Indians. Some they share compartments with on trains, including a Sikh family and two whispering soldiers on their way to the front in Kashmir.

---

​This book is Clark's rhapsody on life, death, spirituality, writing, and travel as inspired by views of and experience with the culture, rites and rituals, castes, lifestyles, and relationships to nature in one of the most diverse and dazzling countries on the planet. Stories and descriptions touch on British colonial impact, bureaucracy, religion, yoga, food, and health. The writing challenges categorization, consisting of equal parts travel memoir, creative writing, spiritual treatise, and social criticism.

Mostly, the book provides colorful views, poignant stories, and luscious language to keep the reader rapt in what, in itself, is a journey to an inner river wherein one can cleanse the spirit while experiencing a deep and fascinating land in other than a standard guidebook.


​
Video of RICK CLARK reading
​his poem...
"I SAW A BIRD"
​from JOURNEY TO THE RIVER
Bug-Eyed & Bird-Brained, ​by author Rick Clark, is equally divided into bird and bug haiku, with a few related short sequences at the end. There is a nice range of styles, from well-cut haiku to sentence-like structures. In many of the poems, Clark's study of Zen pays off, and he is able to capture pure moments of nature; however at times he can't quite detach himself from his human perspective — and the results are a bit anthropomorphic. Yet like the works of Issa, there is a gentle humor to them (nature-senryu, perhaps), with a large measure of joy! His enthusiasm and love for the small is infectious. The poems are nicely complemented by the brush paintings of Fumiko Kimura. what a load of lint / you haul across the oak floor / tiny sow bug.
​
​Review by Modern Haiku editor Paul Miller

---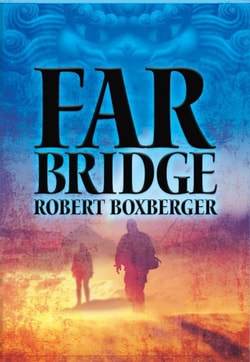 An oppressive world government called the Wardens is eager to rid Earth of dissidents. The Wardens' drive for total social control is hampered by a powerful criminal organization known as the Cofradia. Annette Leon, a female anthropologist, lived with Tibetan nomads for two years. She discovers the legend of a parallel world. Rhys Morgan, a government botanist who seeks out new food plants, helps to feed a society struggling with the effects of climate change. However, Morgan's greatest goal is to escape the Wardens. Leon submits a scientific paper which includes a legend describing passage to a tangent world. The key is said to have been secreted in the Taklamakan Desert by an ancient Tibetan monk. Morgan, expert at survival in the semi-desert Edgelands, is enlisted by government agent David Bannerman to seek out the ancient hermitage and discover the validity of the legend. Leon, too learns of the government's scheme to rid the world population of those bearing an undesirable gene. She is loath to have this happen and persuades Bannerman, a former lover, to let her accompany him and Morgan, and offers her expertise as a translator. She has been informed that if the legend is true, Bannerman has orders to kill her and Morgan once the path to the parallel world is discovered. Follow our protagonists on a compelling search beyond the FAR BRIDGE in their desperate attempt to save a quarter of the human race.
---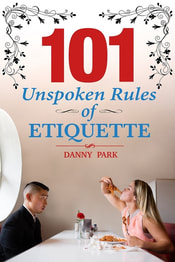 ​Practical manners for the twenty-first century.

101 Unspoken Rules of Etiquette is a practical compilation of rules for behaving politely no matter where you are. What do you do when you're faced with an awkward situation? How should you arrange a meeting for a first date? Author Danny Park presents readers with a fun, incisive how-to for presenting yourself well and encouraging cooperation.

Through the book, Park strives to promote selflessness, self-awareness, and a society more considerate of others. Hoping to create a better, more pleasant world to live in, one manner at a time.
---
Coming soon!

Yoga Essays by Fran Gallo
How I've achieved health, happiness and inner peace
Fran Gallo is one of the most sought-after yoga instructors in the Pacific Northwest. She teaches Hatha yoga classes and workshops in several venues in the Seattle area. She also conducts home-style, weekend retreats in Ocean Shores, Washington. Fran hosts yoga retreats in Italy and Iceland, with other destinations in the queue. Her Spiritual Yoga Journey tours in India are enthusiastically attended.
Fran writes about her personal yoga experiences at Fran Gallo's Blog online. A soon-to-be-released book will bring together many of these posts along with other essays. In this collection, she hopes to guide the reader to a better understanding of how yoga affects the entire body and how to achieve the ultimate yoga experience.



COMING SOON!
The Cave Under Benton Park Ages 9 and up






​Author, Jeanne Bender
---
MERICULUS, JAZ and BENJAMIN
Jaz and her dog Mericulus, wander the streets of SAINT Louis looking for two key ingredients for their famous father, Chef Lee, who is creating a new cookbook. One of the ingredients is found easily but the other is not. A rare mushroom, called morel, can only be found in The Cave Under Benton Park.

Benjamin joins his sister Jaz and Mericulus, as they enter a cave, where they find a lot more than JUST mushrooms!

Come along for the adventure and see what else IS in The Cave Under Benton Park!

Author: Jeanne Bender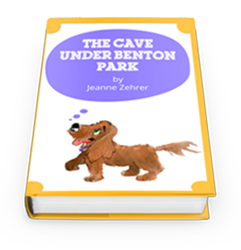 The Cave Under Benton Park
Adventure Chapter Book
Age 8 and Up
jazandm.com
---
* * * * * * *